This compact, yet powerful 2-pocket fitness sorter is a cost effective solution, that not only authenticates your banknotes but can fitness sort them.

Also capable of scanning cheques with its state of the art image processing technology, this all in one compact unit handles all the tedious teller operations quickly and efficiently.
The NC-7100 is a heavy duty 2-pocket fitness sorter designed to achieve the growing demand for efficient cash handling and management in medium to large cash areas.

Its mechanical design and reliable sensor layout provide a cutting edge solution for cash office processing that allows for increased efficiency and cast reduction.
The NC-8500 3 pocket fitness sorter is the latest and most advanced model from MA is the fastest fitness sorter in its group. Featuring enhanced and reliable authentication and fitness capabilities.

Built with wide range counterfeit detection, the NC-8500 identifies counterfeits by using the most advanced counterfeit detection technology in the industry.

Its 3-pocket design assists the user to process banknotes in the shortest time. With easy mode switching and a fully customisable detection suite, the NC-8500 is able to fulfil the most demanding workloads in a busy cash centre with high speed and accuracy.

Supporting most of the worlds currencies, the 8500 can hold up to 12, this unit satisfies the the growing demand for more efficient cash management.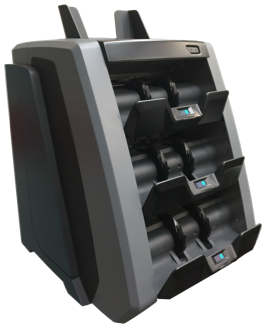 The SB-5000 EX is the worlds smallest 5 pocket fitness sorter. With excellent tape detection, detachable 5 inch colour touch screen, patented rotatable wheels at the bottom (for easy jam removal and cleaning) and the ability to handle up to 12 currencies (50+ currencies available) this is a must have in any busy cash centre.